I decided it was time for a new phone….don't get me wrong, I love my iPhone 4, but the user interface hasn't changed in 3 years and it doesn't look like it will be changing anytime soon and I just get a bit bored of it sometimes, so I went and bought a Sony Erricson Xperia Play…this is the first 'Playstation Phone' on the market.
The phone runs the latest version of Android 2.3 (Gingerbread), has a 1ghz processor, Adreno 205 GPU and 512mb of ram…making it run fairly smoothly, it also has an micro SD card slot (something I really wish the iPhone had). The thing that sets the phone apart from the others is the slide out gaming controls, these are proper Playstation controls created by Sony and they feel really nice to use (it is great to be able to see what I am doing on the screen without my hands getting in the way).
The Xperia play has access to all the Android apps you get in a normal Android phone, but also has access to 2 extra stores: the Playstation store – where you can purchase Playstation 1 games to play on your device, and the Xperia Play optimised store where you can download games specifically designed for the phone…including a lite version of Minecraft (the main reason I chose this phone).
Android is a much more open operating system than iOS, allowing you do do things such as simply pluging the phone in to a PC and dragging files into it as if it were a portable hard drive, you also get 5 home screens that are completely customisable with widgets for Twitter, Facebook, News & Weather, Apps & Games and many more – meaning you can see status updates and new apps directly on the home screen without having to open an app.
I am really enjoying the phone…the only negative thing I can say about it is that the games can drain the battery in 3-4 hours, and the charger uses a custom plug, can't just use a micro-USB plug when you forget the cable.
While doing this review I found an ad for the phone that ran in the US…there were a series of them starring Kristen Schaal – they are fairly funny: Youtube Link…and here is a Mojang video showing a quick demo of some minecraft gameplay Youtube Link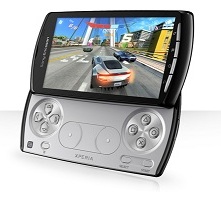 *Image from the Sony Ericsson Website
Chris Thursfield